Oh, it's that time of week again, gentle readers. That time where the sounds of keyboards clicking give way to raucous conversation, and strains of YouTubed musical hits begin to weave their ways through the halls of Jugnoo HQ.
Yes, it's Friday… but it's not just any Friday.
It's Canadian Thanksgiving Long Weekend Friday!
Yes, next Monday our offices will be empty and still, and then will give way to the guilt that always follows the weekend excesses. It's Canadian Thanksgiving – not to be confused with Columbus Day, or American Thanksgiving. What's the difference, you might ask?
Perhaps it's because ours is more of a harvest festival, and harvest comes earlier in the barren iced wasteland that is Canada?
And ours is earlier. Which means we have more time to lose the weight before we gain it all back during the holidays. That's something to be thankful about, for sure.
As part of our festivities, I started packing up all those copies of Gary Vee's 'The Thank You Economy' that we were giving away like the world's most thankful startup… oh, wait. I think we are the world's most thankful startup!
Beyond having you, faithful readers, and our #sCRMchat participants, and our customers, we also have another reason to be grateful…
We're #46! We're #46!
You read that right! This week, TechVibes revealed that we were #46 out of 100 on the Canadian Startup Index, and we couldn't be prouder. After all, we're still in open beta, and we're adding slick new features every day, and well – this list could get longer and longer.
So you can imagine that not only are we incredibly flattered, we're also excited for what the future of Jugnoo holds. Onwards and upwards, gentle readers. Onwards and upwards towards what's next!
In the meantime, check out this great video Fawad made to show you our rapid move up the Alexa ranks, and celebrate our Top 50 spot on TechVibes' list!
The Roof Was Most Certainly NOT On Fire
All this jubilation was a far cry from earlier this week, when everyone was rudely awakened from the warm confines of the internet  and left the building for a fire drill. Was it shocking? A little. Were we previously warned that this was going to happen, and on the exact day that it took place? Of course.
I, for one, had forgotten.
Regardless, the tenants of 130 Adelaide Street West passed with flying colours, and we were all reassured that, should an emergency ever occur, we probably wouldn't perish in a fiery inferno. Always good to know. It was a small trade-off for being stuck outside on a dreary, drizzly, classic 'Toronto in autumn' kind of morning.
Finally, as we prepare to bid you all adieu for yet another week, I thought it would be prudent (maybe even life-changing) to share the following video with you. Brought to my attention by gentleman cupcake-lover Andrew Jenkins, I realized that many of us here at Jugnoo would find this particular lifehack extraordinarily useful.
After, it's a well-documented fact that we love our cupcakes.
And now, just in time for Thanksgiving, we'll know how to eat them right!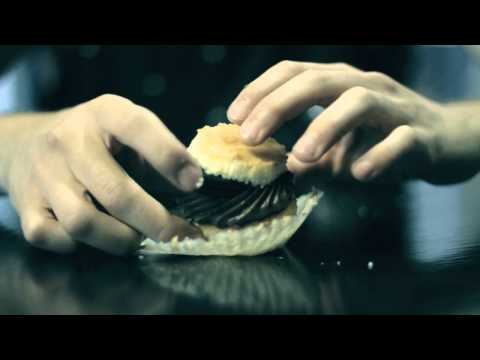 No matter if you celebrate Thanksgiving this weekend or not – have a happy one full of thanks, and we'll see you all next week!