Gimme a T! Gimme a G! Gimme an I! Gimme an F! What do you get? Yes, it's that time of week again… TGIF at Jugnoo!
With patio season in full swing, we know you're probably thinking about relaxing somewhere with an icy cold beverage in hand right about now.
While we can't give you a patio–or an icy cold beverage, for that matter–here's a refreshing dose of this week's news to tide you over until 5 p.m. rolls around.
Champagne Social is Here! (Almost)
We've been cooking up something a little spicy here at Jugnoo HQ, and it's not BBQ ribs. (Sorry, summer on the brain.)
Our own community manager Helen Androlia will be conquering YouTube with a brand-new socially savvy show, Champagne Social–can you say that three times fast?
Every week, Helen will tackle social marketing myths and facts, helping you navigate the oft-murky waters of social marketing.
From Twitter tips to Facebook facts, Helen's got you covered–and we're making it interactive, too.
Do you have a burning question about social marketing? Send it over to us at getsocial@jugnoo.com and it might just appear on our show!
We have some pretty slick graphics lined up for Champagne Social, thanks to our mega-talented in-house motion graphics designer Fawad Mehrzad. Check out our wicked cool intro:
Big props also go to our social gents Matt Andaloro and Hayden Tay for all their hard work in this production. And, of course, a tip 'o the hat to our video guy, Shahid Shafiq, for pulling this all together.
Keep an eye out for our first episode, launching next week!
Video of the Week
What would you say if you could have a conversation with yourself from 20 years ago? Performance artist Jeremiah McDonald did just that, and the video has been taking the Internet by storm this week.
How did he pull off a coherent conversation with his 12-year-old self? No clue, but it sure is witty and well worth a watch.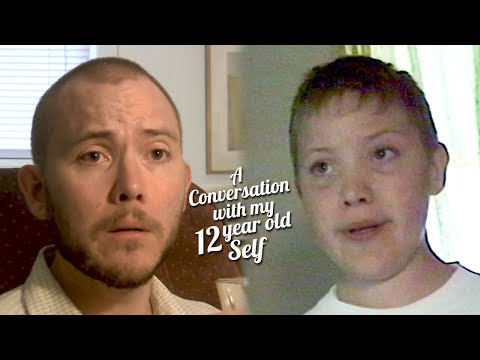 Also, points for talent: Check out this rather exceptional singer serenading his cat after what appears to be a good night out. As expected, cat is not very impressed.
Good for you, cat, good for you.
Support MOCC
On a more serious note, cancer sucks.
A couple of weeks ago, we at Jugnoo were saddened to hear that local marketing superstar Michael O'Connor Clarke was hospitalized, fighting esophageal cancer.
Michael is the sole provider for his family of five and one heck of a great guy. If you don't know Michael personally, you may know some of his work–from the Mesh Conferences to HoHoTO.
Michael is heavily involved in the local marketing community here in Toronto, and also does some really great work on behalf of charity.
You may have noticed the badger in our Twitter icon the past week – it's a Twibbon to support the Make MOCC Laugh campaign.
Head on over to the Twibbon page and grab a badger for your profile photo, then tweet your support to @michaelocc and @eamonnclarke1–trust us, they'll appreciate it.
But wait, there's more you can do to help Michael! A few of his Media Profile colleagues have also started a great new campaign to help support Michael and his family at this difficult time.
Please take a look at the Support Michael O'Connor Clarke campaign, and consider donating if you can. (Please let us know if you do, we will send you a personalized thank-you card.)
We're rooting for you, Michael! From all of us here at Jugnoo, much love and support in your fight.
Cocktail photo graciously borrowed from
Johnnie Walker
on Flickr