Whether you've meditated on it while writing web copy or refined it into resume-friendly bullet points, chances are you know exactly what you do.
After all, that's what people pay you for. That's what you have to offer the world.
Or is it?
On a playing field where all else is equal, Simon Sinek says it's not what you do that will draw people to you or help you rise above a crowd. It's not even how you do it.
"People don't buy what you do, they buy why you do it"
- Simon Sinek
In his book Start With Why – and his nicely condensed TEDx presentation – Sinek explains that you will never truly differentiate from your competitors without a clear sense of why: a belief, a cause, a purpose.
"Why do you get out of bed in the morning?" he asked the TEDx crowd. "And why should anyone care?"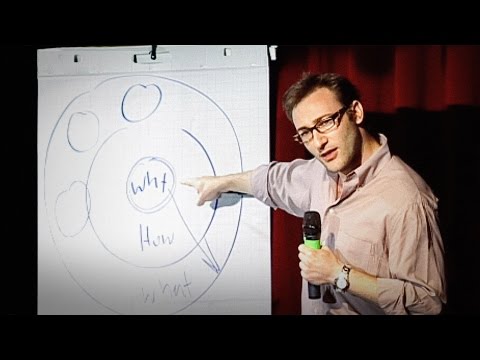 "Only companies that act like commodities are the ones who wake up every day with the challenge of how to differentiate."
- Simon Sinek, Start With Why
Without clarity of why, he argues in his book, you're left focusing on what you do – a commodity – and can only compete through what he describes as manipulation: using price or promotions as incentives, for example, or tapping into what people fear or aspire to.
These tactics work great over the short term, he observes, or nobody would do them. But they only last until a better offer comes along. To inspire people to stick with you over the longer term, he says, you need more.
"Why?" is not an easy question to answer
If your personal brand is a reflection of what you stand for, then understanding what motivates you – the why that drives you – seems pretty central. That doesn't make it easy to figure out.
The cynic in me thinks it's easier to look at a company like Apple and identify part of its "secret sauce". What about those of us whose personal brands fall short of the Cult of Steve?
Tell me if this sounds familiar: I have both a vision and mission statement, written after many hours of reflection. And I rewrite both on a regular basis. There's nothing wrong or even inaccurate about either, but they don't resonate. Neither one gets me out of bed in the morning.
Sinek writes that I may be looking at this the wrong way.
"The why does not come from looking ahead at what you want to achieve and figuring out an appropriate strategy to get there," he wrote in his book. "It comes from looking in the completely opposite direction from where you are now. Finding why is a process of discovery, not invention."
Rethinking the heart of your personal brand
"What authenticity means is that your Golden Circle is in balance. It means that everything you say and everything you do you actually believe."
- Simon Sinek
Sinek's Golden Circle has lived with me since I first saw his TEDx talk on YouTube.
I see his model as a framework for distilling my own personal brand.
Why, Sinek says, explains why your business exists. Not to make money; that, he asserts, is a result. Your personal why is your belief, your cause.
How you do your work reflects the values and principles that guide how you will bring your cause to life. Your hows should be verbs, Sinek suggests, to provide clear guidance about how you should act.
What you do are the actions you take to realize your vision. "The only way people will know what you believe is by the things you say and do, and if you're not consistent in the things you say and do, no one will know what you believe," Sinek wrote.
Does this framework make sense to you? I'd love to get your thoughts in the comments!